Welcome to our page dedicated to the media.
Our organization plays a real role as a lever for the international attractiveness of the territory and is at the crossroads of multiple audiences:
Scientists and students using our services (3500 to 4000 / year)
Owners of furnished accommodation (up to 1500 inhabitants) and hotel residences
Management teams or those in charge of welcoming international scientists in schools, higher education institutions, companies and start-ups.
Local authorities, administrations and social actors
Operation Student Solidarity - O.S.E.
Fresh organic radishes from the Loiret region, cheeses and syrups from the Chevreuse valley, and organic apple juice delighted the taste buds of students from the Moulon plateau who came from France and elsewhere.
On Friday, May 21, 2021, all the students of the neighboring establishments were invited to a meeting around a good-food buffet with local accents, including those in great precariousness to whom O.S.E. is addressed.
This "Operation Student Solidarity" was launched by Science Accueil in April 2021 with the support of the Carrefour Foundation in order to help students in financial or psychological difficulty due to the health crisis: loss or unsuccessful search for a student job, postponement of internships, impact of the crisis on the time it takes to obtain certain papers, isolation, blues, psychological distress.
Science Accueil was very keen to participate in the general solidarity movement, and, thanks to the support of the Carrefour Foundation, has set up this initiative until the summer, which will allow the distribution of more than 150 solidarity vouchers to the most needy students, after examination of their request by a committee.
In addition to the financial aid provided, four psychology interns have been recruited for an original approach: to offer students "peer-to-peer" exchanges to break the isolation, initiate dialogue and eventually start care in the form of interviews, under the supervision of a senior psychologist.
Identifiable by their green Science Accueil t-shirts, these future psychologists travel around the plateau and its institutions to engage in dialogue with students.
Science Accueil Christmas menu
On Wednesday, December 23, Science Accueil organized the operation "Christmas menu" to allow the international scientists to have a sweeter Christmas despite the distance and isolation caused by the health situation.
Hot chocolate, apple juice, mulled wine, gingerbread, buns and hot chestnuts as well as a gourmet gift with local products were shared with the participants.
The "Christmas menu" was supported by the University of Paris-Saclay, ENSTA-Paris, Onera, the Cesal residence, the association Ted, Paul et les autres, the online store Ecureuil saveurs, and many Science Accueil owners.
See the article written by Le Parisien on "Christmas menu" above. 
Science Accueil in the press
Visit of the Minister of Public Service
On Thursday, November 12, the Minister of the Civil Service visited the Guichet d'Accueil des Talents Etrangers (GATE).
She was welcomed by the 3 co-pilots of the GATE. Jean Bertsch, President of Science Accueil, gave her a presentation on how the system works and the profiles of its users.
Sophie Langrognet, Director of the Science Accueil development division, presented the support methods that GATE has put in place to reduce user travel, particularly the digital GATE. Bertsch added, "Our credo is that everything should be settled in two passes at most, to move students as little as possible, which is therefore COVID-compatible. To comply with health protocol, we now receive by appointment only, and we have opened a digital GATE accessible day and night."
Madame Amélie Montchalin spoke with users. "I am reassured to see that the service is being maintained during this second lockdown," Elhadji, a Senegalese student, told her.
The GATE will remain open until December 18. International students and researchers can come by appointment to take advantage of the services offered: residence permit, Science Accueil information point, CAF, CPAM, Pôle Emploi, RATP, CROUS.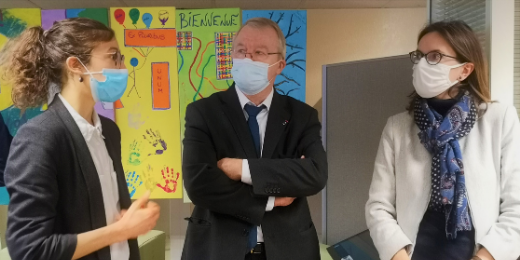 Click on the points below to check out previous articles mentioning Science Accueil:
La vie d'expat' en Essonne, ça donne quoi ?
Essonne Info
"Si Paris est LA ville française qui attire le plus de talents étrangers et d'expatriés, l'Essonne n'est pas en reste. Profitant de sa proximité avec la frénésie de la capitale, le département s'est transformé en un territoire attractif pour des milliers d'expatriés. Qui sont ces étrangers qui ont choisi l'Essonne pour vivre leur vie d'expat' ? Comment sont-ils accompagnés lorsqu'ils débarquent dans le département ? Portrait. "
Science Accueil soutient déterminant de la recherche sur le territoire francilien
Magazine du Genopole ``Forum``, juin 2018
"Science Accueil soutient déterminant de la recherche sur le territoire francilien. Depuis sa création Science Accueil a accompagné près de 25 000 chercheurs de 132 nationalités !"
Cliquer sur les points ci-dessous pour voir les articles mentionnant Science Accueil :
Comment Paris-Saclay attire les talents étrangers ?
Les Echos Entreprises et collectivités (presse écrite), 18 avril 2018
"Pour faire venir étudiants, chercheurs et enseignants étrangers sur le plateau de Saclay, une association facilite leurs démarches administratives et leur intégration, viaune plateforme multiservice très innovante. Découverte…"
Alister's journal
Our newsletter Alister is published 2 to 4 times a year and allows our readers to follow the news of Science Accueil and its partners and to
In addition to gathering all the activities of the quarter, our newspaper gives a nice overview of Science Accueil news and upcoming news.
Don't miss it!
Previous journals
The Science Accueil Journal has been running since June 2016, here is an archive of our previous issues.