Our organization plays a true lever role in the international atractiveness on the territory and finds itself at the crossroads of multiple target audiences:
Scientists and students using our services (around 4500 per year)
Furnished housing owners (for up to 1500 residents) and hotel residences
The team of officers and managers in charge of international scientific reception in schools, higher education institutions, businesses, and start-ups
Territorial communities, administrations and social contributors.
News
Science Accueil Christmas menu
On Wednesday, December 23rd Science Accueil organized the operation "Christmas menu" to allow international scientists to spend a sweeter Christmas despite the remoteness and isolation caused by the health situation.
Hot chocolate, apple juice, mulled wine, gingerbread, buns and hot chestnuts as well as a gourmet gift with local products were shared with the participants.
The "Christmas menu" was supported by the University of Paris-Saclay, ENSTA-Paris, Onera, the Cesal residence, the association Ted, Paul et les autres, the online store Ecureuil saveurs, and many owners of Science Accueil.
See the article written by the Parisian on "Christmas menu" above.
Print
Web
Dispatches
Click on the points below to check out previous articles mentioning Science Accueil:
Visit of the Ministry of Public Administration.
On Thursday 12 November, the Ministry of Public Administration visited the Foreign Talent Reception Desk (GATE).
She was welcomed by the 3 co-pilots of the GATE. Jean Bertsch, President of Science Accueil, presented her the functioning of the system and the profiles of its users.
Sophie Langrognet, Director of the development centre of Science Accueil, presented the support methods that the GATE has put in place to reduce user travel, in particular the digital GATE. Mr. Bertsch added: "Our credo is that everything should be set up in a maximum of two passages, to move students as little as possible, which is therefore COVID-compatible. In order to comply with health protocol, we now receive students by appointment only, and we have opened a digital GATE that is accessible day and night. »
Mrs. Amélie Montchalin spoke with the users. "I am reassured to see that the service is maintained during this second confinement," said Elhadji, a Senegalese student.
The GATE will remain open until December 18. International students and researchers can come by appointment to take advantage of the service: Residence permit area, Science Accueil Information Point, CAF, CPAM, Pôle Emploi, RATP, CROUS.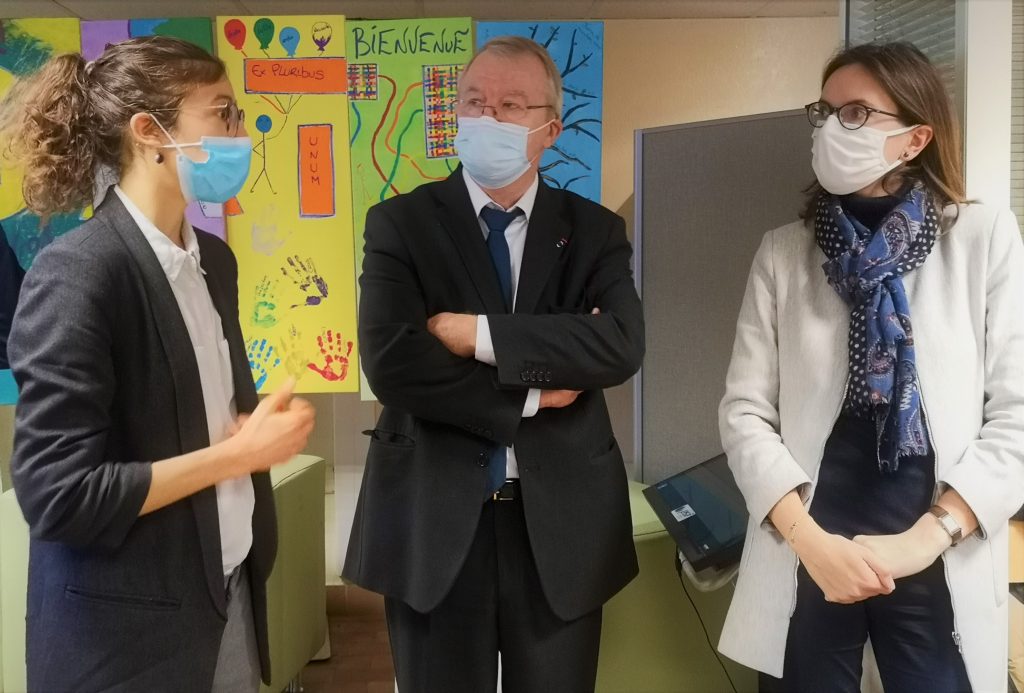 What's it like living as an expat in Essonne?
Essonne Info (web), February 16, 2020
"If Paris is THE French city that attracts the most foreign talent and expatriates, Essonne is not to be outdone. Taking advantage of its proximity to the frenzy of the capital, the department has become an attractive territory for thousands of expatriates. Who are these foreigners who have chosen Essonne to live their expat life? How are they accompanied when they arrive in the department? "
Science Accueil is a key supporter of research in the Paris region
Genopole magazine: Forum, June 2018
"Science Accueil is a key supporter of research in the Paris region. Since its creation, Science Accueil has supported nearly 25,000 researchers of 132 nationalities!"
How does Paris-Saclay attract foreign talent?
Les Echos Businesses and communities (written press), April 18, 2018
"To bring foreign students, researchers and teachers to the Saclay plateau, an association facilitates their administrative procedures and integration, through a multiservice platform: very innovative. Discovery…"
Le journal d'Alister, our newsletter
Our "Journal d'Alister" comes out from twice to four times a year and allows our readers to follow the news of Science Accueil and its partners.
Other than going over all the activities of the trimester, our journal also gives a good overview of the upcoming news of Science Accueil.
Stay tuned!
Newest issue
The new "Journal d'Alister"  No. 14  January 2021 is published. Click on the image to see it. You can also consult the others editions:
Previous issues
The Science Accueil's journal exists since June 2016, here are our previous numbers.