Procedures for the Essonne department
For Scientists living in the Essonne department, different procedures exist depending on your place of residence. Check the list of the municipalities.
SOUS-PREFECTURE DE PALAISEAU
Bureau des Étrangers/ Scientifiques
Avenue du Général de Gaulle
91120 Palaiseau
Web site
PREFECTURE DE L'ESSONNE
Bureau du séjour des étrangers/scientifiques
Boulevard de France
91000 Evry


Web site
SOUS-PREFECTURE D'ETAMPES
Bureau de l'accueil et du séjour
4 rue Van Loo
91152 Etampes
Web site
Procedures for the Yvelines department
Scientists living in the Yvelines department depend upon the Prefecture of Versailles. They have to send their residence permit first request or renewal file by postal mail to the prefecture.
The complete file has to be sent to :
PRÉFECTURE DES YVELINES
Bureau du séjour des étrangers/scientifiques
1 rue Jean Houdon
78010 Versailles cedex
Web site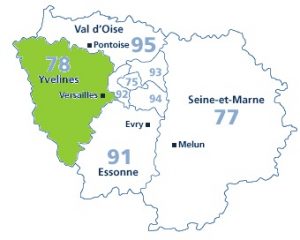 OFII

(French national office for immigration and integration)
Your city council: please visit the yellow pages to find your city council.
If you leave in another department, we will help you find the most appropriate mobility center of the 

access Ile-de-France network

 regarding your residence permit.