Christmas stories from around the world
Scientists from all over the world have given us their memories or traditions of their country, enter into the magic of Christmas….
Italy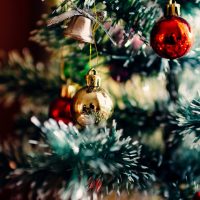 In Italy, Christmas traditions are many and different according to families and regions. I come from a town near Cremona in the north. On December 8 (Feast of the Virgin), all together we make the Christmas tree, we decorate the house with lights and someone also makes the crib. In my family, we always preferred this rather than the tree.
On the 24th, the celebrations begin. For me, Christmas is family, it's being with my parents and friends. According to tradition, we begin to eat together on December 24th. A light fish-based dinner. Then we all go together to midnight mass. On December 25th, we start eating at noon without ever really finishing. We break the day a little with a walk or a nap. The typical dishes of our tradition are ravioli in broth, bolliti (boiled meat) with mustard (candied fruit), chicken, cooked salame with polenta and side dishes. But each family has its own traditions with recipes handed down from generation to generation. Typical desserts are Pandoro, Panettone and Torrone. But eating a dessert is always a challenge. The day of the 25th usually ends with playing bingo all together. In my family it has never been the custom to exchange gifts. It is not Santa Claus or baby Jesus who brought the gifts. In some parts of Italy, gifts are brought by St. Lucia on December 13th. And the magic becomes double! 🙂
Valentina et Daniele
El Salvador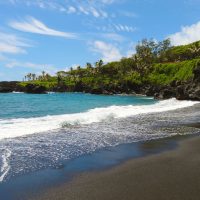 My best Christmas memory: meeting all my cousins and neighbors to play and light firecrackers and fireworks, at midnight, the whole country is illuminated by fireworks! The next day, we go… to the beach!
Nadia
Russia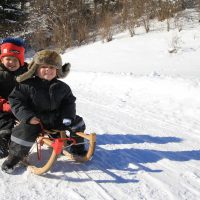 There are many Christmas traditions in Russia. The most fun is dancing around the Christmas tree, reading poetry to Santa Claus and tobogganing. Santa Claus in Russia is called Ded Moroz or a Cold Grandfather, he has a granddaughter who helps him. Her name is Snegurochka, it's like the snow girl in Russian. Two traditional dishes are tangerines and olive salad with lots of vegetables and mayonnaise. The most important thing is to make a wish with the magic of the new year when the clock strikes midnight.
Анна
Taïwan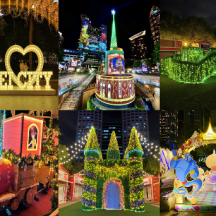 India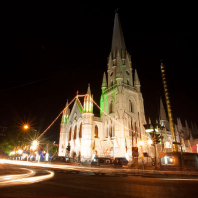 Although Christmas is not a traditional holiday in Taiwan, there are markets in the stores and parties outside at the moment. In general, people like to exchange gifts for the celebration. And children always hope to receive a gift from their parents at Christmas.
Yu-Ming HSU
India is a secular country where people of different religions live in harmony. Our Christian brothers and sisters, who represent about 2.3% of the total population, celebrate Christmas every year with great enthusiasm.
In India, one week before Christmas Day, people decorate the Christmas tree and start making traditional sweets. On Christmas Eve, there is midnight mass. Some of us dress up as Santa Claus, hand out sweets and wish each other happy holidays. On Christmas Day, people go to church, then they come back and go to see their parents, get together as a family and exchange sweets. Afterwards, people eat together delicious dishes such as "chicken biriyani" and express their gratitude for the past year.
Apurba
Panama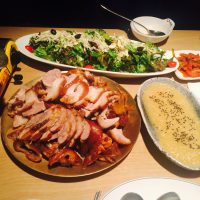 December 24th in Panama is a very special day. The tradition of my family was to wake up early, have breakfast with a traditional bread called "rosca de navidad" and then go to mass. In the evening we had a big family reunion, we were around 50 people in one house and there it was time to share the big Christmas meal. We had a lot of food that we can only eat during this time of the year: the "tamal", a small square of corn where you can have chicken or meat; the "jamón con pina", a ham where the cooking is done at the same time with the pineapple, that's life! Then, after having eaten we all waited outside in the street, surrounded by the neighbors, for the clock to indicate midnight to set off the fireworks and also to look at the sky completely lit by the fires of the whole city. The next day, we woke up and when we were children we opened Santa Claus' presents. This is one of the best memories of my childhood.
Anna Gabriela
Austria
In Austria, Christmas is the most important day of the year for children. Many of our traditions are like in France: for example, there is the Christmas tree, the Advent calendar and the big decorations in the streets.
But there are special traditions too. The "Santa Claus" (Saint Nicholas / Santa Claus) does not exist and the gifts are distributed by the "Christkind" (baby Jesus) who is a little angel.  In the countryside there is also an old tradition of dressing up as the devil in the days before December 6th.
Noema
Equator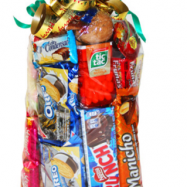 Christmas in Ecuador is a purely family and religious holiday. It is the most important holiday of the year, as all families try to get together at dinner on December 24th where they usually eat turkey or pork as the main course and "pristiños", which are fried rings of wheat flour, bathed in "panela" syrup, as dessert.
A very special activity is the elaboration of the Nativity Scenes and the prayer of the Novena to the Child Jesus which takes place every night from December 16th.
Another activity is the Secret Friend game, which many Ecuadorians play before Christmas. It is a very popular and traditional game in Ecuador, in which many people participate and offer gifts to each other without knowing who they are. In addition, a gift for all children is the "funda de caramelos" which is a bag that contains chocolates, candies, cookies, etc..
Katherine
Cameroon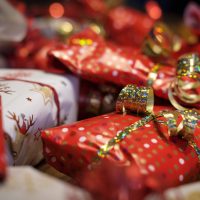 In Cameroon, contrary to France, Christmas Eve is not a big New Year's Eve, a big event, but just a small family moment with a small banquet waiting for the 25th.
We go to mass, we dress up, and then we all get together afterwards. Sometimes, if there is another event like a baptism or a first communion, we like to wear clothes with African fabrics. We sing, we dance, we give thanks.
Since it is a party, we can also welcome other people: neighbors, friends, those who are hungry etc. In short, a moment of sharing with everyone as a reminder of the symbolism of this festival.
Of course, there are also gifts under the tree (mostly artificial) that can be opened on the 25th in the morning.
Quentin
Chine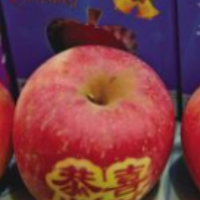 Couples exchange gifts. Like other holidays, there will be a promotion in the stores. The stores will be decorated with snowflakes and gingerbread. The young people will have a good dinner together on Christmas Eve. People buy an apple for friends on Christmas Eve. The name of Christmas Eve is "peaceful night" in China because of the famous Christmas song "Silent Night, Holy Night". The pronunciation of the word "apple" is similar to "peaceful". If your friend receives 24 coins from 24 people and buys the Christmas apple for you with the coins, good luck is with you next year.
Christmas is becoming the second Valentine "s Day in China! With stores and hotels decorated with exotic charm and without the challenge of the elderly (who are more traditional), it is the perfect time for young couples to enjoy their own romantic moments!
I come from China, where Christmas is not a traditional holiday. However, due to globalization, Christmas has become a new "holiday" in the last two decades.
The commercial world uses Christmas as a symbol to encourage consumption. Stores and restaurants offer discounts during this period. In shopping streets and malls, we can see Christmas decorations such as Christmas trees with flashing stars, Santa Clauses driving sleighs, and posters that read "Merry Christmas". In addition, there are also people (children but also adults) wearing Santa hats. In short, there is a very festive atmosphere in the shopping districts.
For consumers, especially young people, Christmas is an excuse to spend money without feeling guilty. Children take advantage of the occasion to get gifts for no reason. I remember I was super happy when my father gave me a Santa Claus stuffed toy when I was little, even though I had no idea about the Christian religion.
In China, we don't have a holiday for Christmas. If Christmas means two weeks of vacations in France, in China, Christmas is only Christmas Eve and December 25 – although discounts may last longer. Also, we are not used to staying with the family and normally we don't exchange gifts. If we celebrate, it is usually with friends, especially young people. However, we have invented customs ourselves. For example, there is an interesting and funny phenomenon: people celebrating Christmas give an apple as a present to their friends on Christmas Eve. Why do they do it? Because Christmas Eve is called the "safe evening" in Chinese and the first characters of this expression and the word "apple" are homophones. So Chinese merchants sell apples in separate packages and raise their prices to "celebrate Christmas" and, allegorically, wish their friends peace and good health for the following year.
Personally, I don't celebrate Christmas in China. Since I am not a Christian, for me, Christmas is only a day that traders take advantage of. Christmas has no cultural significance for me. Nevertheless, when my friends invite me to have a drink or go shopping to celebrate Christmas, I confess that I have no reason to say no.
Yitong, Yang, Qitong et Tianzhu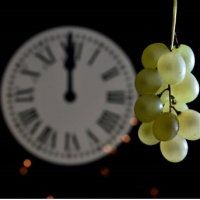 In Spain, the key dates for the Christmas vacations are
December 24: Nochebuena (good night). Families get together to prepare a special dinner
December 25: Navidad (Christmas). A family meal is organized, once again. In some families, Santa Claus brings presents to the children, but this is not very frequent.
December 31: Noche vieja (Old Night). A family dinner is organized and at 00:00 a.m.; the 12 grapes are eaten with the last 12 seconds of the year.
January 1: Año nuevo (New Year). It is again a family meal.
January 6th: Los reyes magos
In Spain, children open their Christmas presents on January 6th. There, the Christmas presents are not delivered by Santa Claus, they are delivered by three wise men: Melchior, Gaspar and Baltasar. They represent the three kings who, guided by a star, brought gifts to the newborn Jesus Christ.
In Spain is consumed every January 6th the "Roscon de Reyes". It is a cake like a brioche shaped like a crown. The dough is prepared with flour, water, eggs, butter, sugar and orange flower water. Before baking, a bean and a small porcelain subject are hidden in the dough.
There is a ritual to eat this cake. The whole family eats the cake and whoever pulls the subject is the king but whoever pulls the bean must pay for the next cake.
Marta, Fernando et David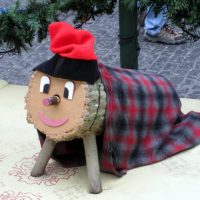 In Catalonia we have the tradition of the "tio de Nadal", which we can translate as "the Christmas log". It's a wooden log that normally wears a "barretina", it's a traditional Catalan hat. So, for Christmas on the 25th of December, we go to the woods to look for this log. At home, the tío de Nadal is waiting for us to "shit" the gifts, which are normally small gifts. To do so, we sing a song and hit him with a stick.
Aleix
Senegal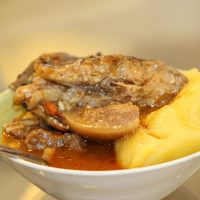 For the Christmas tradition, I had one when I was younger. Having grown up in the grandparents' circle, my grandfather used to ask me and my cousin to go to bed early on the evening of December 24th and put our shoes upside down in front of our bedroom door, only then could Santa Claus put down our presents.  It was only later that we knew that Santa Claus was the one… Very beautiful memories!
As in all the countries of the world, Christmas is a festival which exists since a very long time, we can say that it is a traditional festival. Children believe in Santa Claus and also receive gifts. What makes it different from Christmas in Europe, Christmas brings Senegalese people together despite the religious diversity,
Christians share their dishes with Muslims and vice versa.
Children light firecrackers in the streets of their cities. Finally the Christmas rituals are the same all over the world, we don't see any difference.
In Senegal, the "Tiebou dieune" is the dish chosen for the holidays: Christmas does not escape it! Based on fish, this dish is enriched with pastels or small Senegalese-style hake fritters, especially for Christmas. Despite the low percentage of Christians (5%), Christmas is celebrated with great joy by all communities.
Rokhaya, Sérignée et Cheikh
Serbia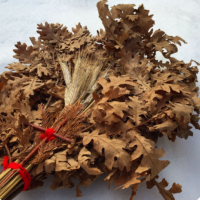 In Serbia, the Orthodox celebrate Christmas on January 7th, it is one of the countries where the church still respects the old Julius calendar, and the traditions are numerous!
A few days before Christmas, one of the residents of the house goes into the forest to look for an oak branch and bring it back to put it in front of the house. This is called the "Badnjak". Today it is rather bought and is not just one branch, the vendors prepare it as a bouquet. The "Badnjak" is brought into the house on Christmas Eve. It is the tradition to set it on fire whenever possible. In big cities, in front of big churches, they take a big Badnjak, and at midnight they set it on fire, and people look alike. The warmth of burning Badnjak symbolizes warming up with love, and the light of the fire chases away the darkness of empty beliefs.
Another tradition is also to spread hay around the house, as it symbolizes the hay on which Jesus Christ was born, and by bringing the hay you bring God's blessing.
Also, we have a habit of protecting the house by putting in each corner of the house a whole nut (with the shell) because it chases away evil.
When we talk about what we eat, we have lots of things and lots of choices, but each family will surely prepare a special bread cake at Christmas, which is called "Česnica", and where the person who prepares it will hide a piece before putting it in the oven. Before eating the meals at Christmas, the family gets together around the table and each family member holds the cake. The tradition is to spin it, stopping at a point when they break it and everyone takes their share. The person who finds the piece at home is considered to be going to have a lot of happiness in the coming year.
With the Christmas meal, the tradition is also to prepare mulled wine, because it symbolizes the blood of Jesus Christ.
One thing that's also quite interesting is that we have a belief that on Christmas Day it's important to do a little bit of everything so that it all fits us well throughout the year!
Ivana
Lebanon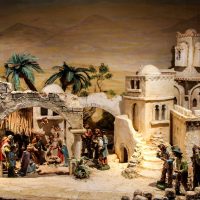 In the land of cedars, Lebanon, Christmas is a tradition that cannot be ignored. The atmosphere of this holiday starts on December 3rd, the day of Saint Barbara, with the decoration of trees, streets, and churches.
A contest is launched every year to choose the most beautiful and large crib. According to the Huffington Post, Zgharta's Christmas tree was one of the most impressive in the world in 2016. On the evening of the 24th, the whole family gathered around a big dinner at the grandparents' house, during which they ate a special dessert: the "moghli". A dessert that celebrates the birth of Christ. Then, the families head to the churches for the Christmas service.
The Armenian community particularly celebrates Epiphany on January 6th. In some mixed neighborhoods, they take advantage of these traditions to reenact Christmas a second time, two weeks later.
Christmas in Lebanon shares almost the same customs as those around the world: family gatherings, illuminations, gifts, etc.. The festival has a particular religious character that is manifested by the Lebanese version of the crib, which is a must in every Christian home. Christmas is celebrated by everyone, regardless of their religion, and twice: December 24th and January 6th, the date favored by the Armenian Orthodox community.
Bassem et Nadine
Poland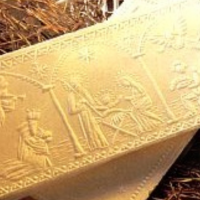 Christmas is one of the most important holidays in Poland (and my favorite!). Christmas Eve (December 24th) is the most special moment for us: in the evening around 5 o'clock we start dinner. First, we share "opłatek" (fine white bread similar to the host) and exchange wishes for happiness and health.
At the table, we usually have 12 courses. The dishes are rich and varied but at the same time lean, i.e. based on fish (we don't eat meat on December 24th). The more traditional dishes are:
– "barzcz z uszkami" – beet soup with small ravioli stuffed with mushrooms and cabbage;
– "pierogi ruskie" – another type of ravioli stuffed with potato and cheese;
– "bigos" – Polish sauerkraut;
– "karp" – breaded and fried carp;
– "piernik" – sweet gingerbread.
After dinner we distribute gifts and continue the evening with Christmas carols ( kolędy ). It is also said that on this exceptional night animals speak the language of men!
I like Christmas very much because every year there are many Christmas markets (Jarmarki Bożonarodzeniowe) with stands of local craftsmen and producers and lots of illuminations. Don't forget the famous "grzaniec" (mulled wine with spices) and "oscypek" (small smoked cheese served grilled with homemade cranberry jam). I can't wait to celebrate this year!
Magda
Argentina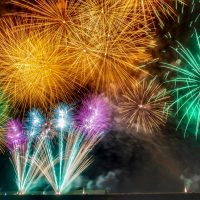 December 24th in the morning: You are about to see relatives and friends in the evening.
First you will buy the ingredients for the meal your family will bring, each family invited to dinner will do the same.
Around 8:00 p.m. you prepare to see your relatives, grandmother and grandfather are normally the hosts.
Ready, go! The race to get all the dishes on the table by 11:00 p.m. begins. You have to taste all the dishes at the same time as you get the latest news from your parents, it's just once a year.
Around 11:45 pm, everyone has run, some to get the champagne, some to prepare the fireworks, the host to serve dessert and sweets.
Then Boom! Merry Christmas to all. Fireworks, cheers and children asking for Santa Claus.
At 12:45 am, most of the candy and champagne are gone… time to sleep? No. The party starts in the house, the adults take a drink. It's time to start dancing and have a good time, the children open their presents and play with the new toys.
If you're young, it's time to go to a disco or a friend's house. No stops until 5am.
Finally, around 7 o'clock the next day, you go home and fall asleep. But not for long, some neighbors have fireworks they couldn't use the night before and they are ready to wake you up.
December 31st is near… here we go again…
Gerardo
Ghana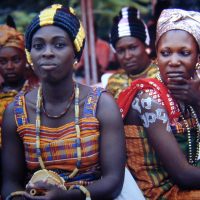 At Christmas celebrations in Ghana, most people wear their best African prints to fill most churches, especially on December 25.
During the Christmas season we greet each other in our local dialect (Twi),
AFIHYIAPA => "Merry Christmas".
then the answer is
AFI KO BE TU YEN which means "Next year should meet us".
Activities take place in most parts of the country with families, friends and lovers visiting each other with their end of the year gifts, mainly on December 26th.
Junior
Burkina Faso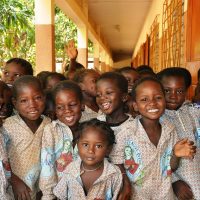 Christmas is a tradition for us because it is the time for family reunion to celebrate each year.
Fidèle
Mexico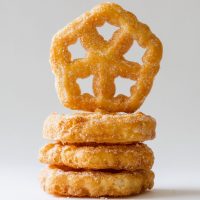 In Mexico, there is a traditional festival called las posadas.
From December 16, people gather for this festival every day until Christmas, but my family only did it once or twice.
Usually we would go to my grandmother's house, but sometimes we would go to an aunt's house or a friend's house.
The feast begins with villancicos (Christmas carols) and prayers of the rosary.
Then we ask for the posada (a shelter): it is a song that commemorates the biblical story where Mary and Joseph are looking for a shelter to spend the night.
During this song, we are divided into two groups, one group for Jesus' parents and the other group for the owner of the hostel where they will spend the night. We sing, each one with a lighted candle and at the end of the song we light Bengal fires.
Sometimes we can also attend a play related to the Nativity, called pastorela, often performed by children.
At the end, the children break a big piñata and we enjoy typical dishes and drinks such as atole, buñuelos, ponche and tamales.
Cristóbal
Germany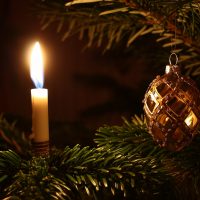 Before Christmas, my grandmother makes marzipan cookies and chocolate pretzels to make it easier for us to wait. The real Christmas atmosphere only begins when at the end of mass the lights are turned off and the whole parish sings "O du fröhliche" (O you, merry) together by the light of the candles on the Christmas tree.
Dominik
South Korea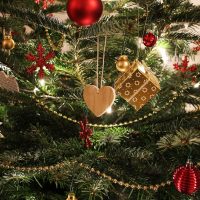 In my country, South Korea, Christmas is a holiday. However, I don't have much to say about Christmas traditions and customs in Korea. However, I would like to try to describe Christmas in my childhood memories.
I grew up in a family of various religions. My grandmother went to church and my maternal grandmother went to a Buddhist temple. On the contrary, I don't remember my two grandfathers going to church or temple. Like my grandfathers, my parents did not seem to be particularly attracted to religion. So I didn't have the opportunity to go to church and I didn't know what religion was. Not knowing where it came from, Christmas seemed to me to be a big winter holiday.
I liked winter very much and I had been waiting for it since the summer. Summer was a difficult season in Korea. At the end of summer, it was almost 40 degrees during the day and the air was humid. People perspired a lot and became easily intolerant. Then, at the end of August, the whole country was fighting two or three typhoons that came from somewhere between Vietnam and Indonesia. The typhoons were blowing hot air from the country and submerging the lower areas. After that, the weather became more pleasant and the leaves on the trees changed colors. It got colder and colder with the expansion of the Siberian air mass until the rivers and reservoirs froze and it snowed.
The snow changed the whole landscape. Half a day of snow was enough to cover the whole city under the soft snow cover. When it snowed, the world suddenly became like a deaf man. Cars were rowing in the street and footsteps were choking. Animals and humans would go home waiting for the snow to make a new world. I dreamed of a big snowball fight with my friends.
Christmas was in the middle of winter. With snow, cold air, hot drinks and thick clothes, we were all ready to celebrate winter. Even a few weeks before Christmas, the stores were already illuminated with light bulbs of different colors. When I went to meet my father at the market with my mother, I could hear the joyful sounds of drunken people and English or American Christmas carols in the street. Although I didn't understand the words, the atmosphere was enough to make us cheerful and we never needed to know what the carols meant.
At home, we had a plastic Christmas tree. We put the bulbs on the branches of the tree and the balls and stars of different colors. There was a big star at the top. This tree was going to stay in the living room all winter long. Next to the tree there was a steel box that looked very serious. I don't know what it was doing there and I didn't dare go up there.
My uncle also had a Christmas tree at home. His family lived on the second floor of a two-storey house, above his mother's house. One evening, at my mother's family's house, we met at my grandmother's house. My uncle asked me to go to the second floor and put out the lights on the tree. I left for this mission and I located the tree with my fingers in my nose. But when I went to unplug the power, I hurt my hand as if my hand had been stabbed by a thorn. I was scared because I thought I could have died from an electric shock. I looked at the nearest power cord to see if there were any eroded areas and found that the handle had been detached from the cord. Despite the fear, I managed to detach the cord by not touching the wire. I went back to my family and I didn't say anything about this experience because I didn't want them to worry about me. And the scar on my palm disappeared before anyone saw it.
If someone wants to have fun, they have to go out during the day before Christmas, especially at night because we work during the day. Many people get together with their friends in the evening and have dinner or drink alcohol and sing together. On the other hand, there are no big gatherings on Christmas Day. It seemed odd to me that people wait so long for Christmas but nothing happens when it arrives. I got bored at home watching some videos for children who were sleeping standing up. The older I got, the more Christmas had become an ordinary day for me. I was too busy at school to celebrate Christmas. It took me more than ten years to realize the meaning of Christian Christmas.
Christmas in South Korea would seem empty because we don't really know what to do at Christmas and what it is all about. For lack of a long story, there is not much tradition for Christmas and everyone or every family has to find their own way to spend Christmas. Nevertheless, I really enjoy my memories of Christmas with my family and it is clearly one of my favorite days of my childhood.
Dongho