Dematerialization of the application for a residence permit for « Passeport talent »
Who is concerned?
Researchers and doctoral students with a hosting agreement
Qualified employees with a fixed-term contract of more than 3 months or a permanent contract, with a gross annual salary of at least 38 475 €.
Families with a "family talent passport
Highly skilled jobs with a minimum one-year employment contract and a gross annual salary of at least 53,837 €.
Employees recruited in an innovative company (https://www.service-public.fr/professionnels-entreprises/vosdroits/F31188) with a minimum gross annual salary of 38 475 €.
Employees on assignment
There are other types of "talent passports". Please contact us for more information.
Good to know: Algerian scientists are not concerned by the ANEF procedure for the moment, because they do not have a Talent Passport. They have to apply for an Algerian residence certificate mentioning scientist directly at their prefecture, by appointment.
How to get there?
What documents should you prepare and scan before completing the online procedure?
The Ministry of the Interior has begun the process of dematerializing applications for residence permits in order to simplify access to services for foreign users.
From now on, the dematerialized application for a residence permit is open to researchers, doctoral students, qualified employees and their families who hold a "talent passport". This allows you to submit your application online thanks to the implementation of the ANEF application.
What is ANEF
The Digital Administration for Foreigners in France (ANEF) allows foreigners to apply for a residence permit online, from different means of connection (smartphone, tablet, computer) within a unified application portal to improve reception conditions for foreign users.
Once on the website, you must click on : I am applying for or renewing a Residence Permit
What documents should you prepare and scan before completing the online procedure?
Documents related to your identity,
Documents related to your family situation,
Proof of address,
Documents related to your professional situation,
e-photo, you can go to a photo booth and choose the e-photo format for driver's license or look for an approved photographer, you will have to enter the number highlighted on the image on the right.
How to create your account?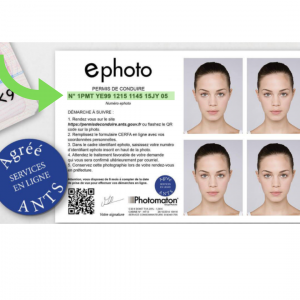 If you already have an ANEF account: enter your login and password.
If you have a residence permit but do not have an ANEF account: you must enter the number, the beginning and end dates of validity of your residence permit and then follow the process to create your account.
If you have a visa (no foreign ID, no ANEF account): enter your visa number, the start and end dates of your visa then follow the process that will lead to the creation of your account after instruction.
What are the steps to follow after the creation of your account :
Filing your application in 5 steps:
Step One:
Personal information, check your marital status and address information. Do not forget to enter your cell phone number
Step Two:
Complete the form and upload the required documents.
Step Three:
Recap, check the summary of your application and documents. You can check the information entered or the supporting documents. Once the application is submitted, you can no longer modify it.
Step Four :
Confirmation, the submission of your application is confirmed. At the end of the teleprocedure, a message confirming the registration of the application will be displayed. You will receive an acknowledgement of receipt (always check the "spam" section of your e-mail box). You can download your confirmation of application directly. This document will be available on your ANEF account
Please note: the "confirmation of deposit" does not constitute proof of legal residence and does not allow the opening of rights associated with legal residence. For first-time applicants, the document does not open any rights and does not allow the exercise of a professional activity. The borders of the Schengen area cannot be crossed.
For renewals, an attestation of extension of a residence permit application is issued. The certificate authorizes the stay in France and justifies the maintenance of all the rights opened because of the residence permit previously held. If the permit allowed the applicant to work, he or she may continue to do so during the period of validity of the certificate. It authorizes the crossing of Schengen borders. It does not open new rights.
Step Five:
Once the prefecture has validated your file, you will receive a certificate of favorable decision that you will have to download. This certificate replaces the récépissé. It allows you to work and travel (except in the case of a first application for a residence permit).
You will then be called to the sub-prefecture to collect your residence permit when it is issued.
IMPORTANT :
If you need help understanding or completing this process, you can contact Science Accueil or, from August 30 to December 17, 2021, go to the Foreign Talent Welcome Desk GATE, an agent from the Science Accueil PISA Information Point will be able to welcome you by appointment and help you with your process. Don't forget to bring all your supporting documents and your e-photo before your appointment.