DEMATERIALIZATION (PAPER FREE) APPLICATION FOR FOREIGN STUDENT VISAS
The Ministry of the Interior has implemented a digital procedure for applications for residence permits in order to simplify access to services for foreign users.
This allows you to submit your application online by using the ANEF-Séjour online application.
What is l'ANEF - Séjour ?
The Administration Numérique pour les Étrangers en France (ANEF)-Séjour (Digital Administration for Foreigners in France) will enable foreigners to apply for a residence permit online, from different means of connection (smartphone, tablet, computer) within a unified application portal to improve reception conditions for foreign users.
Once on the site, you must click on:  Je demande ou renouvelle un Titre de Séjour
Who is the application for ?
Students possessing a VLS-TS student or VLS-TS mobility student visa
Algerian national with a VLS "Student"
Students possessing a VLS student mobility Student visa
Holders of a student residence permit (excluding VLS-TS student)
Attention! Cases not taken into account at this stage (the student will have to contact his or her prefecture):
Students possessing a short-stay visa – competition
Young adults who do not hold a visa or residence permit
Holders of a CARTE RLD-UE (EU-RLD CARD)
For access
Pour vous rendre sur le site :
This is the same site as the one dedicated to VLS-TS (OFII)  validation
What documents do you need to prepare and scan before performing the online procedure?
Residence permit (if you have one),
your passport,
e-photo, you can go to a photo booth and choose the e-photo format for a driving license or look for an approved photographer, you will have to enter the number highlighted on the image on the right.
Certificate of enrolment or proof of enrolment at your institution of higher education, Transcript of grades from last year,
Last diploma obtained in France or certificate of successful completion,
Proof of address dating back less than 6 months,
Proof of your resources:

If you are covered financially over by a third party (provide a certificate from the bank of the third party that justifies the scheduling of regular transfers to your account) and a sworn statement of payment of sums allowing you to wait for the required amount of 615€ per month to be attached with a proof of identity of the third party,
If you are a scholarship holder provide a scholarship certificate from the paying agency,
If you are an employee prepare your last 3 pay slips
If you have sufficient resources on your bank account, provide the credit balance bank statement.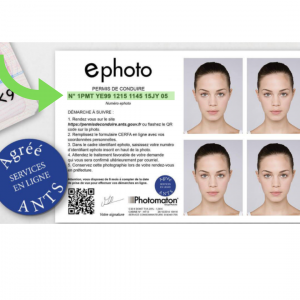 How to create your account?
If you already have an ANEF account, enter your username and password.
If you have a residence permit but do not have an ANEF account, you must enter the number, start and end dates of your residence permit and then follow the process to create your account.
If you have a visa (no foreign ID, no ANEF account): enter your visa number, the start and end dates of your visa validity and then follow the process that will lead to the creation of your account after processing.
What are the steps to follow after creating your account:
Submitting your application in 6 steps:
Step 1: Personal information, check your marital status and address information. Don't forget to enter your mobile phone number.
Second step: Reason for your stay, describe your project, this relates to your academic background, host institution (university, school, high school, institute, etc. ), study cycle (bachelor, master, doctoral student, BTS, DUT, other. . . ), level of studies, degree sought at the end of the year and discipline.
Third step: Resources, fill in the resources that you benefit from, you must justify your resources of a minimum equal amount of € 615 euros per month and its origin (scholarship holder, employee, personal resources, etc. ).
Step four: Supporting documents, attach the documents that justify your situation as specified above.
Step Five: Summary, check the summary of your application and documents. You can check the information entered or the supporting documents. Once the application has been filed, you can no longer modify it.
Step Six: Confirmation, your application is confirmed. At the end of the teleprocedure, a message confirming the registration of the request will be displayed. You will receive an acknowledgement of receipt (always check the "spam" section of your email inbox).
You can download your application confirmation directly. This document will be available on your ANEF account.
Important:
the "confirmation du dépôt" does not constitute proof of the legality of the stay and does not allow the opening of rights associated with a legal stay. For the first applications, the document does not open any rights and does not allow the exercise of a professional activity. The borders of the Schengen area cannot be crossed.
For renewals, a certificate is issued attesting that the examination of an application for a residence permit has been extended. The certificate authorises residence in France and justifies the maintenance of all the rights open because of the residence permit previously held. If the permit allowed the holder to carry out a professional activity, this activity may continue during the period of validity of the certificate. It authorises the crossing of Schengen borders. It does not allow the opening of new rights.
IMPORTANT:
If you need help understanding or completing this process, you can contact Science Accueil (see if you are eligible) or,  go to the Guichet d'Accueil des Talents Etrangers (GATE).
For more efficiency, please bring all your supporting documents and your e-photo before your appointment.