Science Accueil is an organization that, for the past 25 years, has been a specialist in hosting national and international scientists and their families in the Ile-de-France Region.
Science Accueil supports research organizations : universities, higher education establishments, research centers, R&D centers, and start-ups.
Led by the Paris-Saclay Urban Community and supported by the Ile-de-France Region, Science Accueil is located in the regional and territorial scientific cluster.
The organization is labeled as a "Euraxess Mobility Center" and is a member of different mobility networks:
Réseau Access Paris Ile-de-France (7 centers and branches)
This network's program is supported by the Ile-de-France Region, managed by the Cité Universitaire de Paris, an dedicated to the reception and follow-up of international researchers in incoming mobility. Science Accueil is the housing provider for this network.
Euraxess France (31 centers in France)
The members of this network receive the label of the European Commission for their contribution to the international attractiveness of the country.
Euraxess – Researchers in motion (505 centers in Europe)
Euraxess is a European initiative that brings information and support to researchers from all over the world for their professional development.
Science Accueil works on programs for both public and private collectivities, enterprises, businesses, and organization. Science Accueil does this in partnerships or on its own.
SCIENCE ACCUEIL... FOR WHOM?
Science Accueil accompanies :
Members of academic institutions of Higher Education and Research and also entrepreneurship institutions (R&D laboratories, start-ups…).
Researchers, professors-researchers, and doctoral students, but also students, interns, and scholarship recipients.
Employees and associates of mobility in France.
The families of those beneficiaries.
HISTORY OF SCIENCE ACCUEIL
1997: A reception institution for foreign scientists was founded, from a will of 6 prestigious scientific establishments  associated with the Plateau de Saclay Urban Community.
1999: Transformation of its status, therefore becoming an association (law of 1901) called Science Accueil, pioneering center, historically the 2nd in France. Contribution to the creation of its first Exchange of Good Practices network  with the birth of new reception centers.
2002: With its proven expertise, Science Accueil participates in the creation of reception centers for foreign researchers in the Cité Universitaire of Paris.
2003: Creation of a European network of reception centers for researchers, the Eramore network (later named Euraxess). Science Accueil is labeled as a Mobility Center Eramore (later Euraxess), by the European Commission.
2005: Creation of a network of French mobility centers, the BRACE, financed by the Region, which becomes the "acc&ss_Ile-de-France" network in 2012.
2008: Opening of the Science Accueil branch in the Evry University, accompanying researchers – and students since 2017 – of the scientific department of Evry.
2013: Membership of the Paris-Saclay institution, and later in 2017 of the University Paris-Saclay. Science Accueil provides hosting tools for international scientists in the Paris-Saclay facilities, extending over the south of Ile-de-France.
2017: Science Accueil co-pilots, along with the Palaiseau Sub-Prefecture and the Paris-Saclay University, the conception and implementation of a multi-services platform of reception, the "Guichet d'Accueil des Talents Etrangers" (GATE). Implementation of an information booth by Science Accueil (PISA) on this platform.
2018: Opening of a Science Accueil branch within the ECLA Campus Paris Property, a residence for scientific majors located in Massy/Palaiseau.
2019: Science Accueil is moving its headquarters to the heart of the Paris-Saclay cluster, in Gif-sur-Yvette on the Moulon plateau.
Over the past 25 years, Science Accueil has not stopped responding to the reception needs of incoming international scientists.
Throughout this time span, over 50 scientific establishments have trusted in Science Accueil for their membership, allowing us to fully accompany more than 30,000 scientists for free.
Help with housing by working with private owners (since 1997), French courses (1999), practical life and hobbies (2005), administrative help (2007), cultural visits (2009), housing renovation support and conciergerie programs (2017), summer schools (2017), invitation in locals' homes and reinssurance programs (2018)… Besides the initial reception, Science Accueil is always developing new programs to help international scientists.
Founding members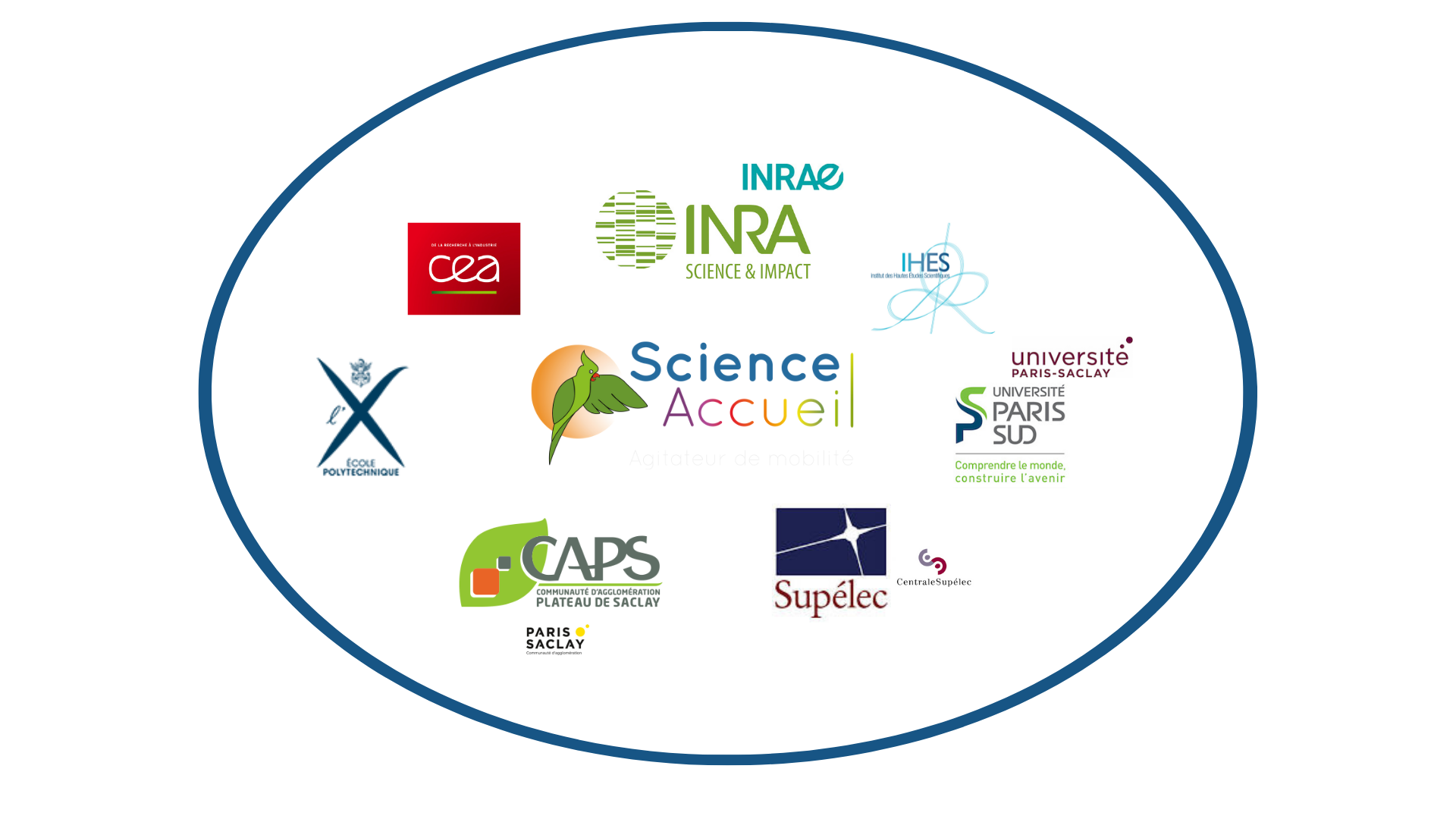 Board of directors
The Board of Directors is made up of 20 members divided into 6 colleges :
Founding members
Academic establishments of education and research
Diverse businesses and organizations
Honorary members and associates
Housing owners
Beneficiaries
The head office
Raul de lacerda
Vice-President
CATHERINE STEPHAN-EVAIN
Secretary
Jean-Michel Cassagne
Treasurer
Philippe MASSON
Project Manager
The office
Sophie Langrognet
Development Department Manager
Corinne Ollé
Administrative Department manager
Angélique Rousseau
Housing Department Manager
ANDRÉA SALAS DE CARRERA
Housing department assistant
Anne Rebesche
International mobility consultant
CLAIRE TISSERONT
International mobility consultant
Marion Thomas
French as a foreign language program officer
Nadia Estrada
Communication Officer
JOANNA LOCHNER
Assistant to the director
SANDRINE FOUGÈRE-DE COMARMOND
international mobility consultant
One word on our mascot : Alister is inspired by a little parrot symbolizing exotism and personalizing the hospitality that we give our scientists by taking them "under our wing".